App Detial
« back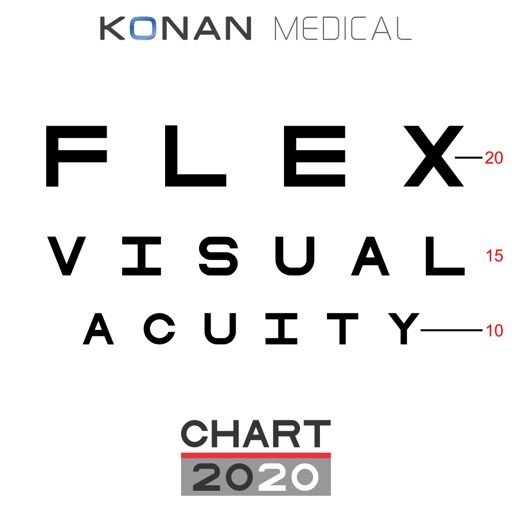 FLEX Visual Acuity
Seller: Konan Medical USA
Price:
FREE
Download FLEX Visual Acuity free via AppsHawk.

Professional-grade FLEX visual acuity assessment! Visual acuity vision test charts are dynamically rendered to user-selected specifications.

-> Instant, flexible test distances from 0.33 to 6 meters (14 inches to 20 feet), with measurement convention switch selectable
-> Enhanced logic for resolution dependence of smallest optotypes at closest test distances
-> Instant, flexible Notation systems: 20/xx, LogMar, Decimal, and Metric
-> Gesture driven:
- larger - smaller optotypes
- randomization (double tap)
- selection of highlighted letter / line
- reveal of optotype selection tray
- reveal of chart overlays (masking): single lines (vertical + horizontal), single letter (with red or black crowding bars or none), and reverse contrast
-> One touch, pop-up magnifier
- very useful for smallest letter verification for presbyopic test administrators
-> Comprehensive Sloan specification optotype library:
- Sloan letters
- Sloan numbers
- Snellen letters
- Tumbling E's
- Landolt C's
- HOTV
- Konan Kids pediatric
- Japanese
- Korean
- Arabic
- Greek
- Hebrew
- Russian
-> Simple demo for HOTV and pediatric optotypes for comprehension assurance

What's new in Version 1.1
Now available as an individual app or as an in-app purchase with Chart2020 DUO
New icon and minor updates for iOS 8.

FLEX Visual Acuity is a beautiful complement to Konan's Chart2020 app.

Simple to use but powerful clinical tools from Konan Medical. "See what you've been Missing."

_____________________________________________________________

Have an idea for a novel test? We are evaluating dozens of new ideas submitted by our customers. Contact clinical@KonanMedical.com for more information.
Screens