App Detial
« back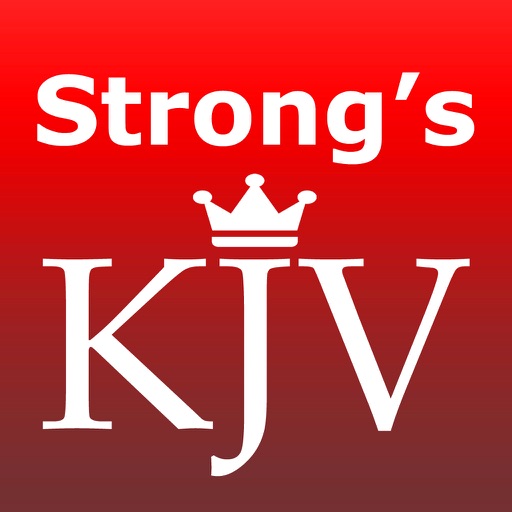 Strong's Concordance and KJV Bible
Seller: Kairos Software LLC
Price:
FREE
Download Strong's Concordance and KJV Bible free via AppsHawk.

"Where the word of a king is, there is power" (Ecclesiastes 8:4).

You have just found the best tool to study the Word of God, the Exhaustive Strong's Concordance with the King James Bible.

This app is easy to use, fast and intuitive, packed with a lot of great features. We know you'll love it so much, it's our guarantee, because it's the result of the work of many Bible students, with a lot of labour and love for the Scriptures. It's not just another Bible app, but your resource of study and relationship with Jesus.

James Strong (August 14, 1822 – August 7, 1894) was an American Methodist biblical scholar and educator, and the creator of Strong's Concordance.

+ No advertisements!

***** 10 Dictionaries (In App Purchase) *****

1) Webster 1828:
Complete dictionary Webster 1828, with references to the King James Bible AV 1611.

2) Easton's Bible Dictionary:
This dictionary is a reference work with 4,000 biblical enties of encyclopedic nature.

3) Hitchcock's Names:
This dictionary lists the meanings of the Hebrew names that appear in the Bible (over 2,500).

4) Nave's Topical Bible:
This is a topical concordance of the Bible, with references to over 20,000 topics.

5) Smith's Dictionary:
The Smith's Bible Dictionary has thousands of entries explaining biblical words.

6) Archaic words list:
The KJV isn't dificult to understand. Some words could be "archaic" and this dictionary has almost 800 entries.

7) Original Translator's Notes:
This is the original KJV translator's foot notes. To access it tap the "dagger" symbol at the end of verses.

8) King James Dictionary:
This dictionary contains more than 6500 entries specific to the King James Bible, many of them with passages, to better study the Word of God.

9) Hebrew English Dictionary (with Strong's Concordance, included in original purchase)

10) Greek English Dictionary (with Strong's Concordance, included in original purchase)

***** 12 Commentaries (In App Purchase) *****

1) Albert Barnes (1798-1870) Notes on the whole Bible.

2) Adam Clarke's Commentary and critical notes on the whole Bible, written from 1810 to 1825.

3) John Nelson Darby Bible translation notes and Synopsis on the whole Bible.

4) Robert Jamieson, A. R. Fausset and David Brown Commentary Critical and Explanatory on the whole Bible, 1871.

5) John Gill's verse-by-verse Exposition of whole the Bible.

6) Matthew Henry's whole Bible Commentary

7) Philip Schaff Commentary on the New Testament (4 Volumes) and Introduction to all books, 1890.

8) Scofield Reference Notes on the whole Bible, 1917 Edition.

9) Treasury of David by C. H. Spurgeon, the "Prince of Preachers" with comments on the 150 Psalms.

10) Treasury of Scriptural Knowledge on the whole Bible, compiled by John Canne, John Browne, Thomas Scott, Benjamin Blayney, Reuben Archer Torrey and others (1900).

11) Geneva Bible Notes.

12) John Calvin Commentaries.

+ Fast and easy access to Strong's Numbers.
+ You can either search by Number or within the KJV text.
+ Greek dictionary and concordance.
+ Hebrew dictionary and concordance.
+ Real time Bible maps taken from actual GPS coordinates, with more than 1200 places!
+ Search Study Tools: Text Highlight, Bookmarks and Notes.
+ Search the current chapter with matches highlighted.
+ Many available text fonts for easy reading.
+ Write your own notes using our Text Editor.
+ Fast access to cross references.
+ Bookmark any verse easily.
+ Auto-scrolling with adjustable speed.
+ Treasure of Scripture Knowledge titles.
+ Words of Jesus in Red.
+ Old Testament quotes in Blue.
+ Automatic sync your notes and bookmarks on iCloud.
+ Day reading mode and night reading mode.
+ Change the text spacing and size.
+ Fast pinch to zoom the text.
+ Change the screen brightness.
+ Justify the text to left, right or center.
+ Reading mode and study mode.
+ Share Bible verses.
Screens