App Detial
« back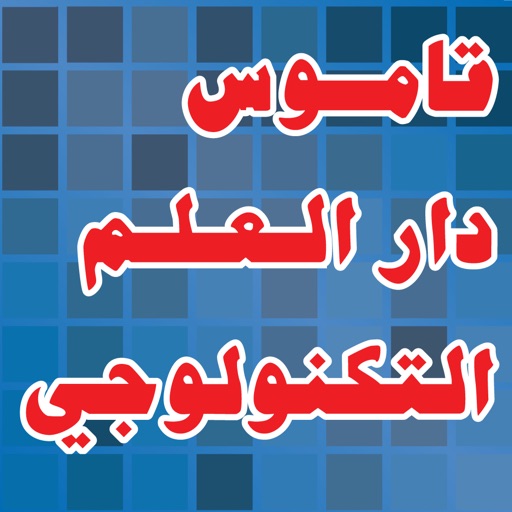 Technology Dictionaryقاموس دار العلم التكنولوجي
Seller: Dar El Ilm Lilmalayin
Price:
FREE
Download Technology Dictionaryقاموس دار العلم التكنولوجي free via AppsHawk.

The first technological dictionary of its kind in the Arab world that explains technology terms in easy and clear words.
It includes more than 15000 terms in English and their meanings.
تماشياً مع متطلبات العصر التكنولوجي الذي نعيشه قام الدكتور بشير العلاق بوضع هذا المعجم الرائد الذي يحتوي تعاريف وشروحات لتكنولوجيا المعلومات والاتصالات والمهام المتداخلة معها.
وهو أول قاموس من نوعه في العالم العربي يتناول بالشرح والتوضيح المصطلحات الفنية والتقنية.
فيه أكثر من 15000 تعريف وشرح دقيق لتكنولوجيا المعلومات والاتصالات والمهام المتداخلة معها بطريقة مبتكرة، بحيث تم إعطاء مفهوم المصطلح والإستخدام الإنجليزي المرادف له توضيحاً سهلاً ومحدداً باللغة العربية.

FREE PREVIEW

The app allows to easily and quickly navigate through and try out the dictionary at no charge before making a purchase, as well as to experience the most advanced search, learning and translation features.

Now you can make sure that a dictionary complies with your language level and contains all words you need before purchase. Full-fledged version is available for buying with the in-app dictionary catalog.

Search and translate features:

• New for iOS 9: You can now look up words while reading news, email, Safari sites, messaging or other popular apps! Select any text and send it to the dictionary via the "Share" button. All words available in the dictionary will be highlighted. To activate this feature, please select the dictionary as a sharing 'extension'.
• Multiple clipboard look-up! You can now copy as many words as you need while reading – even the whole text, - switch back to the dictionary app and view all the relevant dictionary entries one-by-one.
• Full text search feature allows you to look up words more efficiently throughout the whole dictionary content, including headwords and usage examples.
• PenReader multilingual handwriting recognition support.
• List of similar words in case of misspelling.
• Wildcard Search if you are unsure of the exact word spelling. Use "?" and "*" symbols to replace the missing letters.
• English morphology module helps to translate words in any grammatical form.
• Search for anagrams (e. g. tab-bat).
• Hyperlinks between articles and directions.
• Search for words directly in large dictionary entries.

Learning features:

• English audio pronunciations recorded by native speakers.
• Flash Card Quiz to memorize new words and test your knowledge as many times as you wish.
• Favorites - to quickly access frequently searched words.
• Handy Converter support.
• Search History to revise your recent translations

Interface features:

• Graphics fully adapted for iPhone 6 and iPhone 6 Plus.
• Built-in dictionary catalog for in-app purchases.
• Improved user interface for your better experience.
• Enhanced customization options allow you to modify animated menus and choose background colors.
• Enlarge or reduce font size for your comfort.
• Landscape-mode support.
• Fully iPad optimized interface.
• No Internet connection required: purchase a dictionary once and use it on your iPhone/iPad/iPod touch without any additional expense.
_____

About Dar El Ilm Group

Dar El Ilm Lilmalayin is the oldest and largest leading privately owned publishing and distribution house of Arabic books and educational materials in the Arab world. It is also the first and major Arabic electronic multimedia producer company in the Arab world. Several of Dar El Ilm Lilmalayin's books have become record-breaking best sellers. These include: "Al Mawrid English-Arabic dictionary", and "Al Mawrid Arabic-English dictionary", both universally acknowledged and considered as the most popular and authoritative Arabic bilingual dictionaries; and "Alif Baa El Tabkh", and "Halwayat El Alam Fi Baytik", the most popular Arabic cookery books in the world.
Screens